Agile Project Management Tool
Are you having any of the following thoughts lately?
I keep spending too much time taking status and planning. I need to do more innovative things.Any Project Manager
I would really like to follow agile but the culture of my company doesn't associate with Agile valuesAgile Start-ups
I am passionate about agile but I can't seem to find the proper tool that covers all aspects of agileAgile Follower
It is quite expensive to practice agile!!! All Agile Lovers
You can say goodbye to bug trackers with Krosswall – #1 scrum tool

Read How
Increased
Profitable Business
Efficient
Change Handling
Faster
Project Completion
Increased
Employee Satisfaction
Prioritized Requirement Stack
Instead of limiting your focus to only a small feature of your system, plan for a larger picture first. Then Prioritize and drill down.
Your engineering team has a stack of prioritized requirements which needs to be implemented.
Krosswall maintains Prioritization at two major level – individual and within same group.
Take out time to plan every parameter of Sprint. Story delivery goals, Members Availability, Quality Goals.
Day Planning @ 5 Min
you'll have a Successful delivery when you start with better day planning.
Synchronized Tracking
Quick snapshots can be achieved when tracking walls.
When making use of krosswall, it handles the synchronisation between story/task walls, all statistics are updated fully at all times and the
Definition of Done(DoD) are handled carefully by the system, so be rest assured that nothing is missed.
High Collaboration – Less Meetings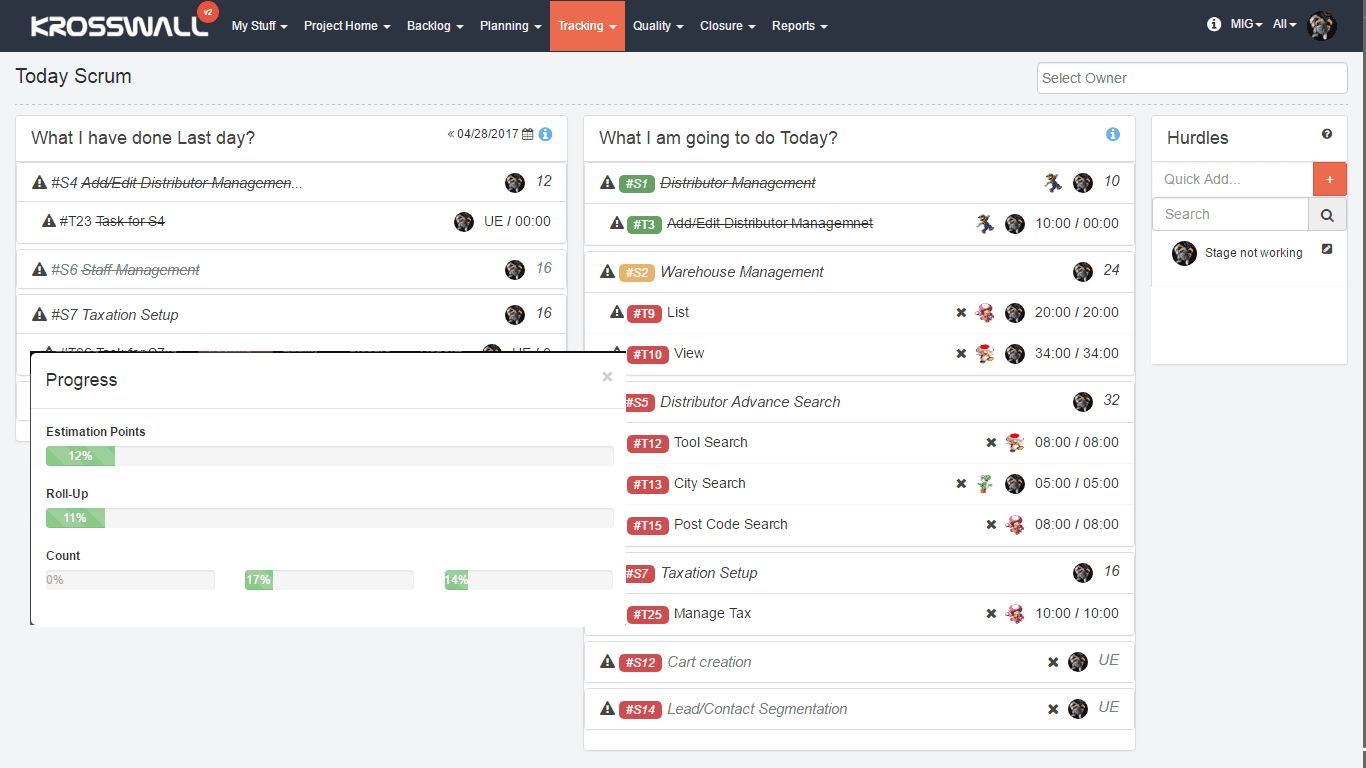 Do not waste time on fruitless meetings. Each team can plan their day before coming for Scrum meetings.
Get clarity on 'Today's Scrum' board of how the day is going.
BUZZ is history!!
Your prime concern may be to make the customer happy by continuous and early delivery of great software.
Test Scenario and Fully automated issue tracking workflow, helps to calculate and gain the quality of Sprint and Project.
Working software over comprehensive documentation
Giving working demos to your customers would get you a lot of reviews.
Then from time to time, the team can use these reviews as a yardstick on how to fine tune and adjust its ways of doing things so that they can become efficient.
Experience the most unconventional method to perform retrospective making use of Krosswall.
Agile UMBRELLA

enables you to create an effortless combination of Scrum, Lean , AUP, Kanban and Extreme Programming.
No one is satisfactory for perfect a delivery but You will end up with the best from the above mentioned.
What are you waiting for ?
Sign up for free and enjoy benefits of being Agile.
Agile Project Management Tool
Note: Carousel will only load on frontend.
Note: Carousel will only load on frontend.
Subscribe To Our Newsletter
Subscribe to our email newsletter today to receive updates on the latest news, tutorials and special offers!